Magical turquoise sea
Mallorca is washed by the warm and gentle Mediterranean Sea. It is calm and transparent, its color changes from blue to dark blue, and its slope is usually quite gentle, which makes the beaches perfect for the whole family.
You can start swimming at the end of May, but the water becomes really warm in June. At the end of September, the official swimming season ends, but the sea is still sapphire-blue and very relaxing.
Soft pearl-white sand
Most of Mallorca's beaches are sandy. If you are looking for the best of the best, pay attention to El Arenal resort and Paguera. El Arenal is very popular among young people who love beach parties and bright nightlife. El Arenal is more elegant and sedate. Can Pastilla and Ses Illetas are also very popular. They offer spacious beaches framed by a promenade with palms, and pine trees. Clean sand, clear water, tasty ice cream, and perfect service - what could be better?
If you want to be closer to nature, check out resorts such as Cala d'Or and Port de Pollensa. From their observation decks, you may enjoy the view of the emerald green forest which flows into the endless blue sea. The most popular viewpoint is called Formentor Cape and Formentor Beach and these are the most distant points from the capital.
Riot of colors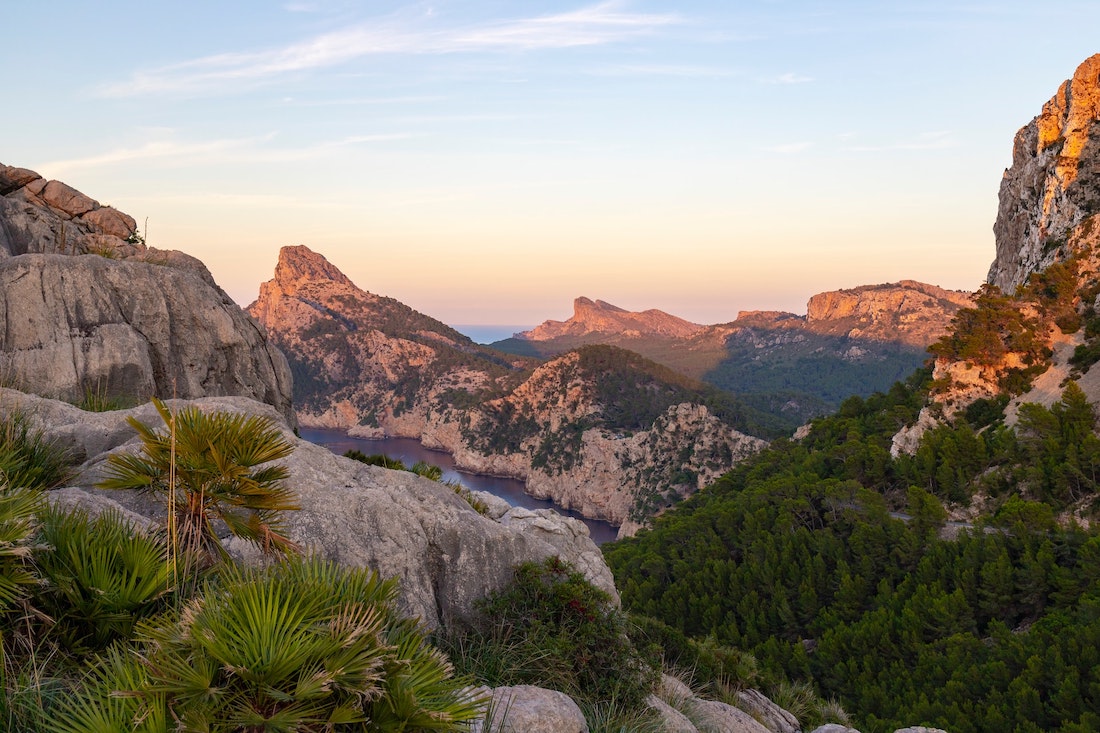 Author: Thomas Winkler on Unsplash
The climate of Mallorca allows the island to become a home for plants from all over the world. The large cedars and graceful pines hold up the skies, ivy curls on the walls, sprawling palms frames the promenades, elegant villas are decorated with cacti, yuccas, and agaves, and if you are in the local flower garden be careful not to get lost there as Gerda did in the garden of the old sorceress.
Mediterranean cuisine
Spanish cuisine is rich in healthy ingredients: olive oil, fish and seafood, vegetables and herbs, low-fat cheese, and yogurt. Everything to make your skin porcelain and your hair silky.
You need to try the Valencian paella - rice with seafood, cold tomato gazpacho soup, the most delicate jamon, blue cheese with mold, and churros - cookies that are eaten with various sweet sauces.
The most popular seafood restaurant in Palma de Mallorca is called La Parada del Mar (address: Avenida Joan Miro 244, Palma). You choose raw products from the stall and they are cooked in front of you. Order good wine and enjoy.
Another well-known restaurant is located in the city of Port de Soller and is called Kingfisher Restaurant (address: Calle Sant Ramon de Penyafort 25). Here you will find a rich selection of traditional Spanish dishes with seafood from the sea which is splashing nearby.
If you do not want to overpay for a restaurant service, go to the nearest fish market, buy the same seafood and cook it yourself on a grill or a regular frying pan. It would be perfect eating them on a terrace overlooking the sea, so that a light breeze blows in your face, and the setting sun plays in a glass of white wine.
Incredible landscapes
Mallorca offers long beaches with golden sand, washed by the turquoise sea. The bays are framed by yellowish rocks covered with pines. Snow-white villas entwined with greenery flow down the cliffs. And even Monet's palette would hardly be enough to paint a sunset.
For the most beautiful landscapes, go to Cape Formentor. There you will find an observation deck, a beach hidden in a bay, and an old lighthouse that stands on a rock and lights the way for ships passing by. If you don't want to drive that far, check out the resort of Cala d'Or, where you will find quiet coves with blue water, harbors where yachts are moored, and beautiful Spanish-style hot.
The charm of Spanish cities
Mallorca attracts tourists not only with chic beaches, the sound of waves, and the rustle of sand. The island has very beautiful cities: the ancient capital of Palma de Mallorca with its cobbled avenues, cozy Santa Ponsa with its streets twisting like a snail, the incredible historical center of Alcudia, which immerses you in, an Arabian fairy tale, and it is absolutely impossible not to mention the elegant white villas Cala D'Or. A week is not enough to see everything, but you should try it.
Water entertainment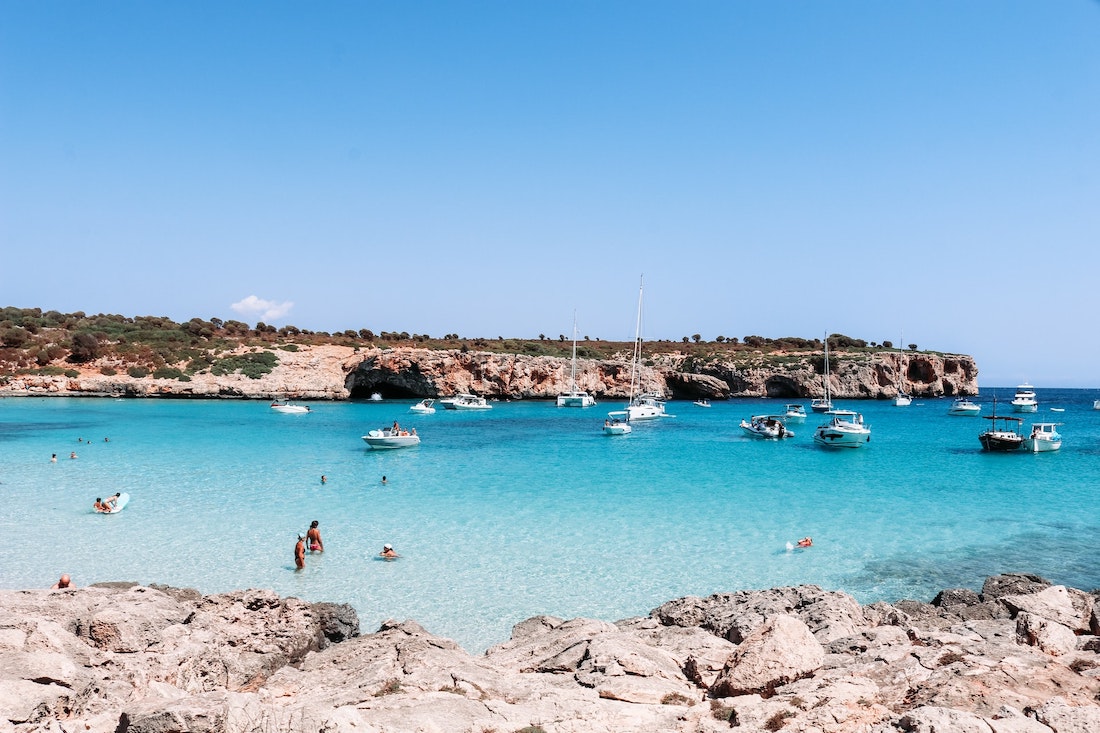 Author: Austin Farrington on Unsplash
Mallorca is a paradise for sea lovers. There are so many beaches here that month wouldn't be enough to see them all. There is enough place for everyone on the local beaches: those who like to spend time in silence, and those who cannot live without extreme sports. Here they dive with a mask, ride water skis and scooters, explore the coast on yachts, and fish.
Mallorca has over 40 ports, which means that even in a small town you will find a lot of offers - from surfing to Mediterranean cruises.
Read our ultimate Mallorca beach guide.
Spanish-Arab flavor
The city of Palma de Mallorca exists for more than two thousand years. The first buildings belonged to the Romans. They gave the city its name - Palmaria. The Arabs often invaded the possessions of the Romans, which affected the appearance of the cities. Many wars took place on this land and in the 14th century Catalonia told the Arabs "Enough!" The island became a major Spanish port.
To feel the whole flavor of the island, you need to come to Palma de Mallorca, stand on Carrer del Palau Reial, and look around. On the one hand, there will be the Cathedral, built in the classical Catholic traditions, and on the other, the Moorish Almudaina Palace, where the Arab viziers once lived.
24/7 parties
Mallorca has two resorts popular among youth - Magaluf and El Arenal. Both are very close to the capital, both have the most fashionable clubs, the brightest beach parties, world-famous DJs, and adults-only hotels. During the day, these cities look like ordinary seaside resorts, but immediately after sunset, swimwear turns into bright cocktail dresses, juice into sangria, and the sound of the sea into electronic music.
Cheap travels
Mallorca is a small island. You can drive from one end to the other in an hour and a half. You need 2 hours and 12 euros to get from the capital to the most remote city, Port de Pollensa. A trip to colorful Alcudia will cost you 10 euros one way, and you can explore the neighboring towns and villages for a couple of euros. All you need to do is to make a list of the most beautiful places and bring comfortable shoes with you.
The article The best resorts of Mallorca will help you choose the most picturesque resorts.